The story of Australia's first hijab-wearing Muslim senator – and why she's looking forward to meeting Pauline Hanson
Labor's newest MP Fatima Payman laughs at the suggestion that she will be the first woman in Muslim headwear in the Senate.
The Afghanistan-born senator-elect corrects the record: the honour actually goes to Pauline Hanson, who wore a burqa in parliament in 2017, a political stunt that was part of a call to ban the garment.
"Unfortunately, I can't take the credit because Pauline [Hanson] stole my thunder," she jokes.
"It would be nice to maybe bond over the fact that I can teach her how to wear my style of a hijab."
Technicalities aside, Payman's election, the last of the Senate seats to be confirmed, is further proof of a shift towards ethnic diversity in the 47th Australian parliament, to which a record number of Indigenous MPs, and MPs from a non-European background, were elected.
At 27, Payman will also be the youngest serving senator and the third youngest in Senate history.
At number three on the ticket, her election was unexpected but is the cherry on top for Labor after its significant victory in the west that saw it take four seats off the Liberals.
It is the first time the WA branch has held five Senate spots since the 1990 election and has made life easier for the party to pursue its progressive legislative agenda, now having only to negotiate with the Greens and newly elected ACT senator David Pocock.
Politics is in Payman's genes: her grandfather was a member of the Afghanistan parliament before the first Taliban insurgency.
Her grandfather's role was also the reason her family moved to Perth.
They fled to Pakistan, and then her father entered Australia in 1999 as a refugee. The family followed four years later, when Payman was eight.
"The reason why we had to leave Afghanistan and move to Pakistan was because we were headhunted," she says.
"Parliamentarians were seen as traitors to the country by the Taliban."
Payman says it was her grandfather who kindled both her and her father's interest in politics.
"Dad had a great sense of pride about his Dad being a part of the Afghan parliament ... he would always talk about how he would take me back to Afghanistan and make sure that I get elected so that we can fix the problems there," she says.
But even Payman's father, who died of leukaemia in 2018 aged 47, didn't dream his daughter would be elected to the Australian parliament.
"Dad had this vision for me but just didn't see that being a possibility here in Australia," she says.
"He would [advise me] 'seek out a financially stable future in medicine or pharmacy' ... like every ethnic parent."
She went as far as studying pharmacy but found more purpose in the union movement.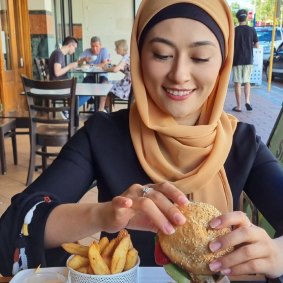 "The world just works in a very interesting way; I was trying my best to go towards medicine, and it just brought me back to politics," she says.
Payman was a Young Labor WA president and an organiser at the left faction-aligned United Workers Union, joining both organisations to tackle the workplace abuse and exploitation her father experienced in his varied jobs in Australia.
"People don't have to be overworked, underpaid and abused at work like my Dad was and not have a voice or not have a union that would back them up," she says.
She had intended her 2022 campaign as a practice, before a serious tilt in 2025, and the narrow win came as a surprise.
As soon as she got the news she'd won, she called her mother.
"She just bawled her eyes out and [said], 'you fulfilled your Dad's dream'."
She says she will take the first few years to learn the ropes as a newly elected representative but wants to put her youth and diverse background to work.
"We need a parliament that reflects our society. You can't be what you can't see," she says.
As for her new One Nation colleague, who had also just scraped into her Queensland senate seat after weeks of counting, Payman is hopeful the pair can have a good working relationship.
"The Senate is quite an intimate, collegiate place. You just learn to work with very interesting characters and form relationships that you never thought would happen," she says.
"I'm looking forward to meeting Pauline [Hanson], she's got a story just like I do."
The Morning Edition newsletter is our guide to the day's most important and interesting stories, analysis and insights. Sign up here.