This was published 6 months ago
Disturbing but compelling, Nitram lingers long in the memory
It's too easy to miss brilliant streaming shows, movies and documentaries. Here are the ones to hit play on or skip.
Nitram ★★★★
Stan*, from Wednesday
Yes, it's the movie about the man who committed the 1996 massacre at Port Arthur, Tasmania, killing 35 people and wounding 23 others. The first thing that should be noted is that it doesn't depict the massacre. The second is that, whether or not you share the misgivings many have expressed about the film's very existence, it is brilliantly made and utterly compelling, with a quartet of extraordinary performances by the main cast.
The character of killer is never named, only referred to throughout as Nitram, a derogatory school nickname that he hated. (It might also be noted that, as an ostensible attempt to deny the real killer the notoriety he craved in a movie that's all about him, this contrivance would embarrass a fig leaf.)
Our first sight of Nitram, as played by Caleb Landry Jones, is of him as a grown man letting off fireworks in his parents' backyard – a neighbour's shouted complaints only adding a spiteful glee to his childish delight. We soon see the family dynamic. Mum (Judy Davis), exhausted by decades of such things, looks to Dad (Anthony LaPaglia) to rein him in. Dad demurs, perhaps partly because of the blow-up that would result, and perhaps partly out of compassion for a son so obviously not right in the head.
Director Justin Kurzel and writer Shaun Grant (whose previous collaborations include Snowtown) don't share such pity for the man who would become the killer – theirs is with his parents and with those whose lives he would shatter. Their stated intent was to make an anti-gun film, and they've certainly done that.
The scenes in which Nitram eventually loads up on semi-automatic weapons at a gun shop and through a private sale are shocking for the blitheness with which the vendors sell them to such a clearly disturbed and dangerous individual. But first Kurzel and Grant need to create their monster, and Jones delivers with unnerving aplomb.
The American Jones, who won best actor at Cannes this year for this performance, makes Nitram a terrifying figure – an impulsive, hateful ball of social and intellectual impairment that was never going to come to a good end. The pivotal moment is him meeting eccentric heiress Helen (Essie Davis), who becomes his friend and benefactor, and in whose dilapidated mansion the director Kurzel really creates an atmosphere of utter brokenness and wrongness. A disturbing piece of work that will stay long in the memory.
Ragdoll ★★★★
Binge
This dark but witty oddball serial-killer drama is just what you'd hope for from the producers of Killing Eve.
When London detective Nathan Rose (Henry Lloyd-Hughes) realises that his own shortcuts will set a serial killer free, he beats the man half to death in the courtroom. Years later, after a lengthy stint in a psych ward, Rose is back on the job and investigating a new serial killer. This one, though, is personally interested in Rose – oh, and he's also made a macabre display of pieces of several bodies stitched together.
Based on the novel by Daniel Cole, it's cleverly and mysteriously plotted but driven by character and dialogue. The demoted Rose is stoic but sardonic, and he has a tender platonic relationship with DI Emily Baxter (Thalissa Teixeira), the former protege who's now his boss.
Their third wheel is DC Lake Edmunds (Lucy Hale), an assertive young American derided as a "TikTok Karl Marx" for whom coppering is a stepping stone to a career in the non-profit sector. The banter is great but bloodshed intervenes.
Cowboy Bebop
Netflix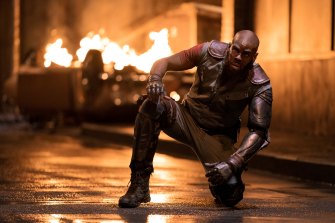 A live-action remake of the landmark space-western anime sounds like sacrilege, but the new Cowboy Bebop is a stunning series deeply faithful to the gritty noir spirit of the original.
Everything hinges on the casting, and John Cho and Mustafa Shakir are perfect as broke bounty hunters shuttling around the solar system listening to old jazz and western LPs in their beat-up spaceship when they're not engaged in bloody attempts to apprehend fugitives. Outstanding spaceship and production design fills out an unexpected delight.
Checkout
Chaiflicks
This hilarious Israeli sitcom channels The Office and Superstore, but with a level of constant aggravation that makes Larry David seem like a guided-relaxation tape. The woman ostensibly in charge is manager Shira (Noa Koler), but things are hard to control. The butchers turn her office into a synagogue when she cracks down on their fake prayer breaks; the checkout operator delights in antagonising an explosive middle-aged momma's boy; and the geriatric security guard hobbles out of the bathroom just in time to miss every emergency. Magic.
Man Like Mobeen
Netflix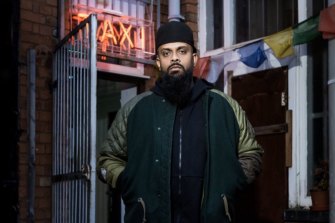 There's a gentle, daggy sweetness to this comedy about a reformed cannabis dealer named Mobeen (series creator Guz Khan), who is trying to raise his smart 15-year-old sister in a tough part of Birmingham while knocking around with his dim-bulb mates. Ethnic humour is to the fore as uncles of Pakistani origin carry on like ethnic comedy uncles do. White cops are painted as apathetic racial profilers rather than hateful bigots, though Mobeen gives brown cops a flea in their ear for joining the enemy. Interesting.
Putin's Revenge
Docplay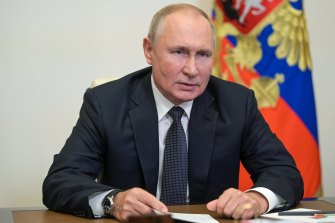 A fascinating doco in which members of the US intelligence and diplomatic communities and other experts from East and West profile the man who has ruled Russia for more than 20 years. It's framed as a quest for revenge - for the humiliation of the Soviet Union, and for perceived slights from individuals such as Hillary Clinton - and as a life-and-death matter of self-preservation. It's never dull but never sensational and shows how American words and actions not intended as threats can be construed as such.
*Stan is owned by Nine, the owner of this masthead.
Find out the next TV, streaming series and movies to add to your must-sees. Get The Watchlist delivered every Thursday.