The Chaser team has grown up, but that doesn't mean they can't get together for one final laugh.
The original team of seven comedians is reuniting for the first time in over a decade to launch the 100th and final edition of The Chaser newspaper, their satirical take on world events, via a live show.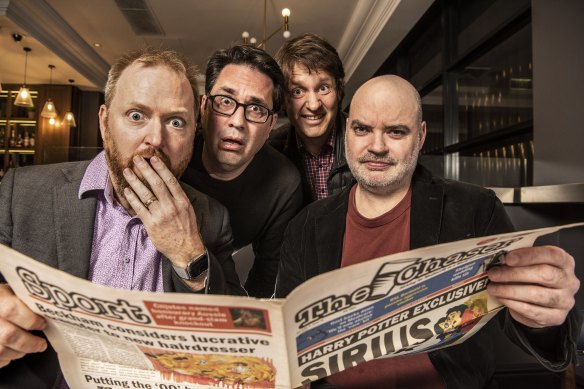 The team – consisting of Julian Morrow, Dominic Knight, Craig Reucassel, Charles Firth, Chris Taylor, Chas Licciardello, and Andrew Hansen – will get together for the performance/Q&A event, themed "The Museum of Chaser", at the National Art School's Cell Block Theatre in Darlinghurst on Thursday to launch the newspaper's final edition.
The Chaser first hit the shelves in May 1999 as an eight-edition newspaper and its success spawned an ABC comedy series whose pranks made headlines, including the breach of the not-so-high-security 2007 APEC Summit in Sydney. The car, security passes, and even the same driver the crew famously used to infiltrate the security perimeter will be inducted to the Museum of Chaser on Thursday.
The man leading the reboot, Charles Firth, has worked through the night with the team to pull the event together.
But revisiting the past – a very different past – can be a tumultuous experience.
"Looking back, there were so many gags where you go, 'Oh, you wouldn't tell that today, that's very edgy'," he reflects.
"The thing that we really did have a sort of reckless approach to was death," Firth says of jokes about murder, among other things. "It was a very youthful approach."
So what's changed? Social media, for one thing. "To create outrage about something, back in the early 2000s, you really needed radio shock jocks to get in on the action and run a systematic campaign against you, which they did from time to time," he says. "Nowadays, anyone can ... run an outrage campaign against you [online]."
The biggest thing that has changed is the people behind the Chaser themselves: mature, wiser, and maybe a little more empathetic.
"There's a lot of sensitivities that we take into consideration now that are completely correct," Firth says. "There are gags there which are ableist and things like that, which ... we didn't think of 20 years ago. But nowadays, you go, 'Oh, that was wrong'."
Firth has spent years in therapy, wondering whether he is "a broken person [because] I really enjoy doing comedy".
"I had always thought I used comedy to mask pain that I suffered in childhood."
But he and his therapist came to a conclusion: "Actually, I just enjoy it." And it's good to enjoy laughing together.
So, the team will reunite for another laugh. And the public is invited to watch them enjoy it.
The Museum of Chaser event is on at Cell Block Theatre, National Art School, 156 Forbes St, Darlinghurst, on June 23.
A cultural guide to going out and loving your city. Sign up to our Culture Fix newsletter here.