Welcome to Quick Q – Monday Media's weekly Q&A series dedicated to finding out more about the personalities that matter most in the Australian media landscape.
Every week The Sydney Morning Herald and The Age asks key figures across corporate media, business, sport, federal politics, radio, television and culture to answer a series of questions about their lives, careers, hobbies and news habits.
This week's conversation is Gen Fricker, comedian and podcaster.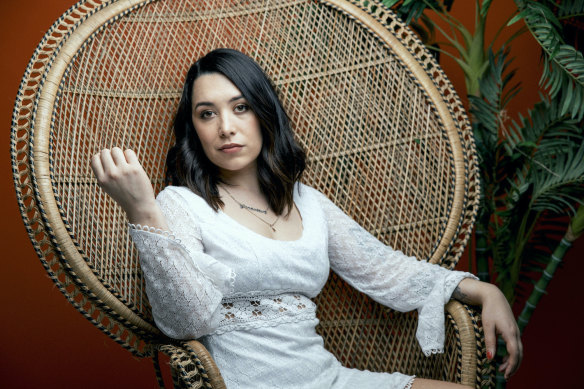 How did you get your big break?
This is a horrifying question because I don't know if I've ever really broken? Is this my big break? Will someone reading this give me a big break? I truly believe every gig I get will be the last thing I ever do in showbiz, and it's exhausting yet deeply sexy to live like this!!!
What are your daily news media habits?

I don't have any daily news habits - about a year ago I unfollowed all news platforms on social media, I don't watch it on TV. Every few days. I'll just check in on news sites that I still have logins for from exes and former employers. I was a chronic doom scroller during the early days of the pandemic, and I realised quickly I needed to control the dosage of existential dread I was taking in. I have very smart friends who will send me things, and I appreciate the 7am, ABC news and Pedestrian Daily podcasts. I know I'm probably part of the problem, but living like this means I'm also blissfully unaware of what that problem could be.
Which living person do you most admire?
Rihanna of course.
Your guilty streaming pleasure?
I have no guilt about any of my streaming pleasures. I love (good) reality TV, I think there's real craft in that type of storytelling that people often miss because they're too busy looking down on the genre, or complaining about how "manufactured" it is. All stories are manufactured! Everything is edited! Didion says, 'writers are always selling someone out', and in reality TV it's the same for producers, and that's thrilling to me. In that regard, I'm really looking forward to this season of Real Housewives of Beverly Hills, and Kardashians.
Which phrase do you overuse?
Absofruitly. One of those ones I started saying as a joke and then it became real, unfortunately.
What did you want to do when you grew up?
Work for the UN as a translator.
What was your first job?
Smoothie technician at Boost Juice Hunter St (RIP).
Facebook or Instagram?
TikTok.
Recommend a podcast...
You Must Remember This, particularly the miniseries on Disney's 'Song of the South', Charles Manson's Hollywood, or Jean and Jane - Jean Seberg and Jane Fonda.
What's one vice you wish you could give up?
Gossip.
The song that's always on high rotation?
Losing You by Solange.
What are you reading?
Vladimir by Julia May Jonas.
Favourite movie of the past decade?
Boiling Point or Parasite.
Top of your sporting bucket list?
Do a kickflip.
What's the best piece of advice you've ever received?
You can get a discount on most online shopping by entering a woman's name and a number as a code (e.g. BECKY10).
What are the three things you couldn't live without?
My phone, my bed, sunscreen.
The Morning Edition newsletter is our guide to the day's most important and interesting stories, analysis and insights. Sign up here.